Meet the Mama Behind the Magic:
Creating A World of Curious, Cultured Kids
Hey there, I'm Shannon
An Aussie mama of 2 with a passion for travel, culture, and of course (!) international food
After living in New York City with my young family and introducing them to a melting pot of language and culture - I knew I wanted my kids to engage with the world around them so they could grow up and take their place on the world stage.
After relocating back to Sydney, I started a small French playgroup (as a non-native speaker) where I started to see my kids pick up new words every day.
That's when I discovered a new way to make languages MORE fun, MORE exciting, and MORE effective - even if I didn't speak the language fluently myself... and that's when the Fast Track to Fluency ™ Framework was born.
I had other mamas reach out to get support and started sharing what I was doing and now I have the honor of serving over 40,000 plus families around the world.
In The Cultured Kid, you'll get the tools and confidence you need so your kids grow up loving learning a new language.
Because I know from personal experience there's nothing quite like seeing your kids pick up new words every day while they have fun - it's magic!
Want to See The Results After Just a Handful of Lessons?
Join the thousands of parents around the world who use and love The Cultured Home!
See What Our Community Has to Say About Our Lessons!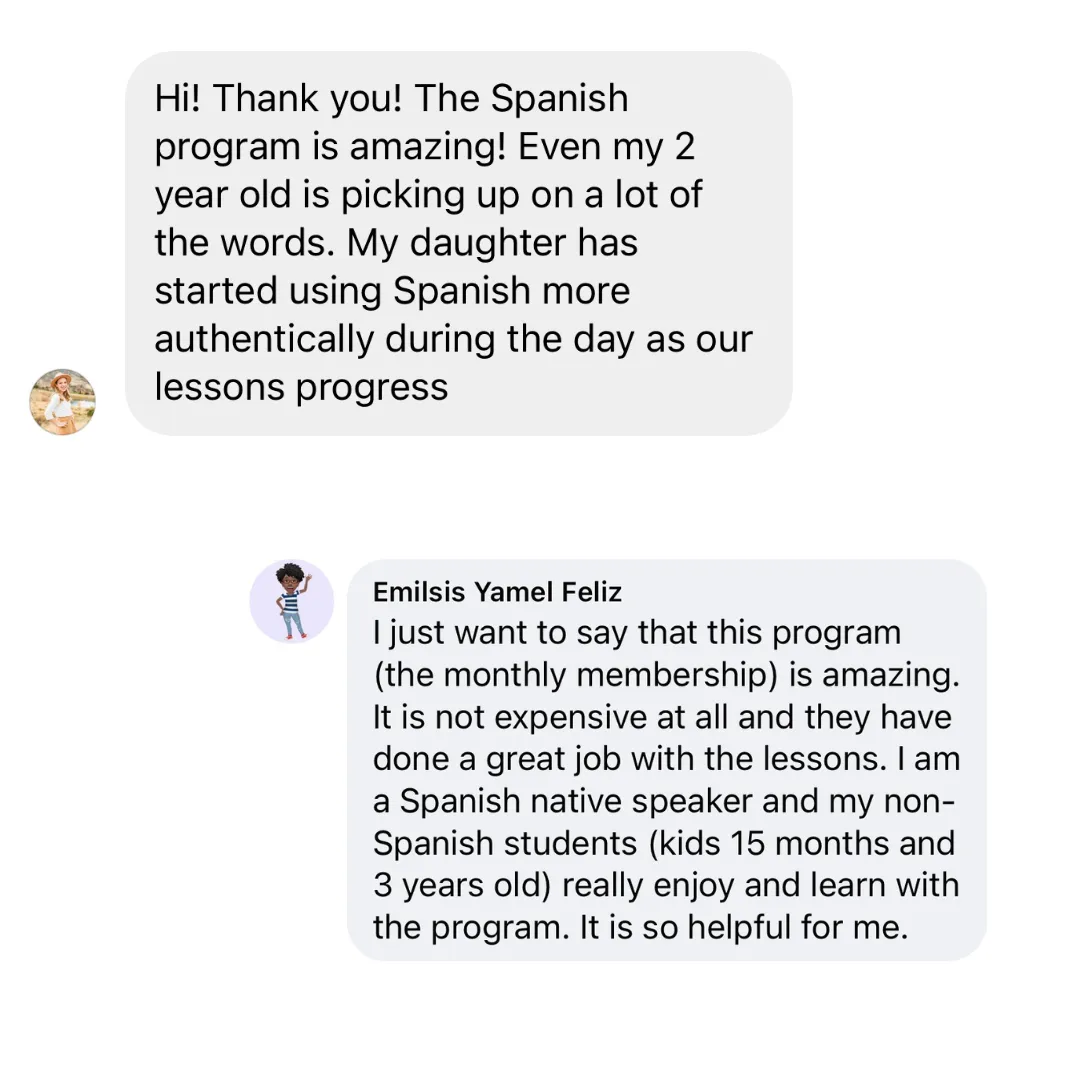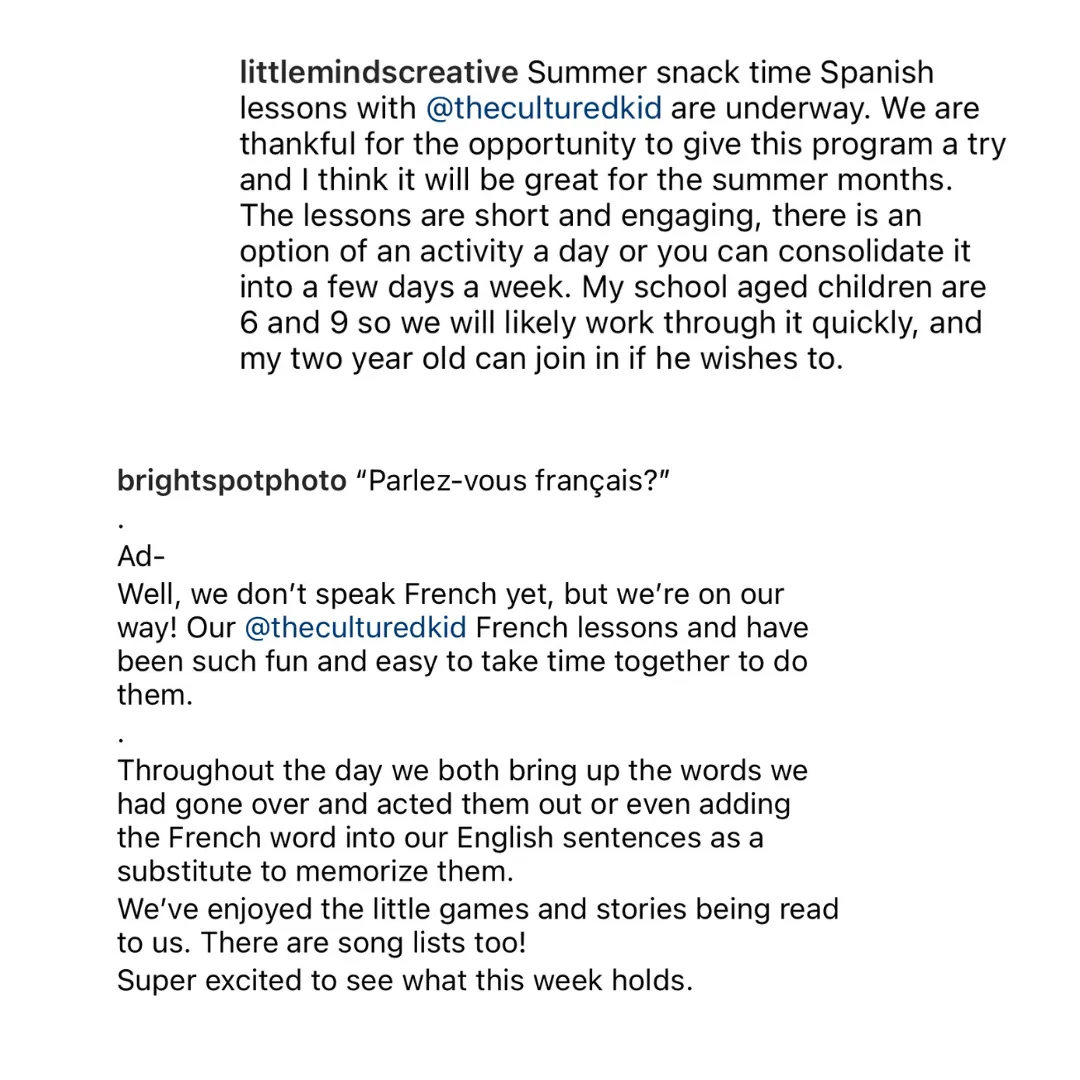 Join the thousands of parents around the world who use and love The Cultured Home!
Say hello to Andrea! - (French)
She's a supermom of four amazing children—a teenaged son and three daughters ranging from 5 to 14. United by a thirst for global understanding, they're hitting the road and learning languages as they go.
Hit play to discover Andrea's journey of worldly exploration and linguistic discovery with her kids!
Introducing Justine! - (French)
Her youngest daughter's fascination with all things French led them to discover The Cultured Kid. What caught their eye? The play-based lessons that Justine knew would resonate with her daughter. They gave it a whirl and, voilà! Both her girls were instantly smitten with the fun and interactive resources and games.
Tap play to find out how The Cultured Kid has transformed language learning into a playtime adventure for Justine's family!
Introducing Christina! - (German)
Fluent in her heritage language of German, Christina always dreamed of passing this linguistic legacy onto her daughter. But fluency and teaching are two different beasts. How to impart the language consistently was her stumbling block.
Hit play to learn how Christina cracked the code on integrating German into her daughter's weekly routine, keeping family heritage alive and well.
Say hi to Ali! - (Spanish)
As a mom of 3, Ali once learned Spanish but put it on the back burner for a decade. Initially, the thought of teaching her kids felt daunting due to her rusty skills.
Click play to see how Ali overcame her fears, put a solid plan in place, and got her kids stringing together Spanish phrases in just a week!
Meet Corrie! - (Spanish)
With a passion for the Spanish language and an understanding of the benefits of early learning, Corrie decided it was time to share this gift with her two-and-a-half-year-old son, Micah. Though fluent, what Corrie needed was a roadmap for consistent teaching.
Press play to discover how Corrie found her groove and maintained momentum in teaching Micah the Spanish language.
Meet Paige! - (French)
Paige is a mama of 2 raising her 3 kids in a bilingual province of Canada. Her daughter had been begging her for years to start learning French but Paige's biggest fear was not knowing enough of the language to teach it to her correctly. 
Click to hear Paige's story about how she introduced a language she didn't know to her kids in just 5 minutes a day.
Say hello to Miche! - (French)
Hailing from South Africa and with a passion for global exploration, Miche joined The Cultured Home Program to teach her young trio—ages 2, 4, and 6—how to speak French. While she had a loose grasp of French sounds, Miche wasn't completely confident in her teaching abilities.
Hit play to learn how diving into the program dissolved her doubts, offering clear pronunciation guidance that made her feel as if a background in French was unnecessary.
Meet Jennifer! - (Italian)
Jennifer is an American mama who grew up speaking Italian from her family and really wanted to pass on her family's language and culture to her children. 
Her son has special needs when it comes to learning and her journey towards language fluency has been different to what she imagined. Listen to Jennifer's story and hear how she's using The Cultured Home language program to make the Italian language fun and simple for her kids. 
Meet Freyja! - (Spanish)
As an Aussie mom, Freyja had a vision: to gift her children the invaluable skill of bilingualism. Her choice of Spanish was influenced not only by family ties to Spanish-speaking relatives but also by her desire to enrich her family's cultural experience.
Embarking on a journey with The Cultured Kid, Freyja has transcended typical language learning. She's woven Spanish into the fabric of their everyday lives, making it a natural and joyful part of their family routine.
Discover Freyja's inspiring story and learn how she's successfully making Spanish an exciting and significant part of her four children's lives.
👇🏼 Take a Peek at our Curriculum Reviews 👇🏼
Join the thousands of parents around the world who use and love The Cultured Home!